Usui/Holy Fire® IIl Karuna Reiki® Master Training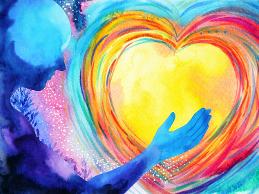 In this deeply healing three day workshop, your training includes the Holy Fire® III World Peace upgrade. Your training includes both practitioner and Master classes. You will learn eight practitioner symbols, and one master symbol will be learned. After this workshop, you will be qualified to teach all levels of Holy Fire® III Karuna Reiki® which are the two practitioner levels, and the two Master levels, as well as all levels of Holy Fire® Reiki, from Reiki I through Reiki Master. You will also be certified to teach these classes online as well as in person. You will receive a class manual written by William Lee Rand which covers everything learned in class, and a certificate of completion will be awarded.
Karuna means compassion and self-compassion, and the class helps to connect you to your true authentic self in a very loving and compassionate way. The Karuna Reiki® I symbols are used to prepare one for deeper healing, restore balance, release past and karmic issues, fill one with love, and ground the client. The Karuna Reiki® II symbols help connect with one's Higher Self so work can be done on a deeper level.
Prerequisite: This class requires at least six months as a Reiki Master. Students should know all the Reiki II and Master symbols. Please send a copy of your Reiki Master certificate when you register.
A Certificate of Completion is available for all Reiki classes for professionals. This is an added benefit of our training programs, and this service is offered at no additional charge. You may turn this Certificate of Completion into your licensing or certification board for potential credit toward your continuing education or contact hours for your license or certificate. Each state board, state, national board or licensing agency makes its own decision on whether to accept this form and how many hours, if any, to accept for Reiki classes. Please request the certificate when registering for a class.

Next class will be held on the following dates:
Dates TBD (Fri - Sun) from 9 am to 6:30 pm each day.
Class Fee: $1295, a deposit of $325 is required to hold your space in the class.
Register 15 days in advance and receive a $50 discount off your remaining balance!
Class deposits are non-refundable and may be transferred once to another class within one year.
A send transfer may be done for a $50 administrative fee.